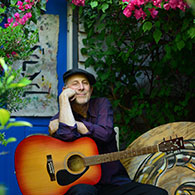 Michael Alpert (UK/USA; Yiddish dance, voice, violin)


has been a pioneering figure in the renaissance of East European Jewish music and Yiddish culture since the 1970s, and is the recipient of a 2015 National Heritage Award from the National Endowment for the Arts – the USA's highest honor for traditional and heritage artists. He is internationally known for his award-winning performances and recordings with Brave Old World, David Krakauer, Itzhak Perlman, Theodore Bikel, Andy Statman, Daniel Kahn, Frank London and others.
A native Yiddish speaker and one of the only contemporary singers adept in the traditional style of pre-war East European generations, he is also a celebrated innovator in Yiddish song, with original compositions on social and political themes. Alpert was Musical Director of the Emmy/Rose D'Or-winning PBS special Itzhak Perlman: In the Fiddler's House, and is featured in film and broadcast media worldwide.
Alpert was the first, together with LeeEllen Friedland, to undertake the systematic contemporary documentation and teaching of Yiddish traditional dance, and since 1979 has been one of its leading global disseminators and researchers.
An important link to Old World Jewish musicians, Alpert has documented Jewish music and dance throughout the globe, is a leading teacher and scholar of the Yiddish cultural arts and has played a central role in the transmission of Ashkenazic music and dance to younger generations. A longtime Research Associate of the YIVO Institute for Jewish Research, he is currently a Senior Research Fellow at NYC's Center for Traditional Music and Dance, and has taught at Oxford, Columbia, and Indiana Universities, and the New England Conservatory of Music. He is married to the comparative literature scholar Emily Finer.
www.michaelalpert.org

Photo: Tom Pich