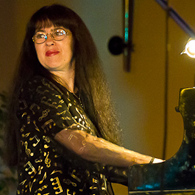 Susan Ghergus (MD; pianist, arranger, songwriter)

Susan studied piano at the Music Academy in Chisinau. Since 1992, she has been the musical director of the Jewish Song Theatre, and has co-authored and performed numerous musical projects with her duo partner Efim Chorny.
Susan is also a composer of Yiddish songs – several of which form the basis of the new project "Efim Chorny/Susan Ghergus: Yiddish Art Songs" – which have been performed and recorded by renowned musicians including Svetlana Kundish, Christian Dawid, and Lucette van den Berg.
 Susan is a highly trained classical pianist as well as an expert in Jewish dance music styles – a combination that allows her to blend Klezmer rhythms with Yiddish song melodies to create a captivating playing style with a unique, Bessarabian Jewish flair.