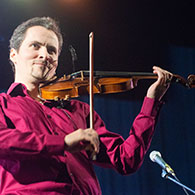 Mark "Stempenyuk"  Kovnatskiy (RUS/D, violin)

Mark Kovnatskiy is a widely traveled and highly acclaimed violinist, composer, lecturer and expert in Yiddish dances based in Hamburg, Germany.
He has performed and taught at many music festivals around the world from USA and Canada to Japan.
In addition to his projects such as the Semer Ensemble, Engel Ensemble, Torah Images,Hamburg Klezmer Band, Joel Rubin Ensemble, Fialke and Silja Mark has performed as a guest musician with Socalled, Dobranotch, Efim Chorny, Painted Bird and Forshpil, among others. He teaches Yiddish music and dance internationally.
Mark has worked with orchestras such as the Musica Viva (RU), Augsburger Philharmoniker (GER), Aurora Orchestra (UK), INSO Lviv (UA) and Weimar Staatskapelle (GER).
His teachers were many famous Yiddish musicians from all over the world, such as Stas Rayko, Michael Alpert, Merlin Shepherd, Steven Greenman, Christian Dawid, Frank London, Deborah Strauss, a Lautari violinist Marin Bunea and many others, but it was Alan Bern who had the greatest influence on Mark's personality, style, and creativity.
Since 2017 Mark is the ambassador of the STRING KING company (Sweden), which provided him with a special violin travel set Trinity Case.
Since 2018 Mark also cooperates with the ACCORD CASE company (Croatia) that made a carbon fiber violin case especially for him. 2009-2016 Mark also was the artistic director of the international Yiddish Fest Moscow. In 2009 he worked as artistic director of the festival KlezmerFest in Hamburg. His own klezmer compositions are played by many different groups around the world.

Photo: Shendl Copitman