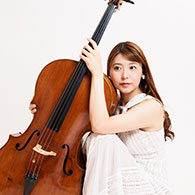 Hitomi Niikura (J/CH; )

Hitomi Niikura is a sought-after soloist and chamber musician who performs regularly at international venues in Japan and Switzerland. She has released several albums with EMI Japan and Sony Music Direct, most recently a recording of Elgar's Cello Concerto. She has appeared as a soloist with the Tokyo Symphony, Tokyo Philharmonic and Bangkok Royal Symphony orchestras and has performed for the Japanese imperial couple at the Imperial Palace in Tokyo.
Hitomi has toured Switzerland and Japan with the Cheibe Balagan klezmer band, which was featured in the Swiss film Wolkenbruch and is scheduled to perform at several festivals this year.
Hitomi has been traveling since she was a child. Born in Tokyo, she lived for several years in San Francisco, received her first cello lessons in Düsseldorf and played her first concerts in Tokyo. She graduated with honors from the Basel Academy of Music and now lives between Zurich and Tokyo.

Photo: Hollywoodbeauty