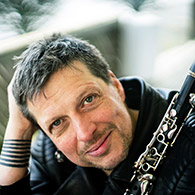 Christian Dawid (D; clarinet)

is an internationally noted reed player. Trained classically, he has explored styles from jazz to alpine brass, specializing in Yiddish and East European folkmusic. He runs Trio Yas and the Ukrainian hipster brass band Konsonans Retro and performed with artists such as Boban Markovic, Frank London, Socalled, Arkady Gendler, Daniel Kahn & The Painted Bird, Brave Old World, OPA!, Shura Lipovsky, Theodore Bikel, Alan Bern, Yuriy Gurzhy, Lorin Sklamberg, Forshpil, Paul Brody's Sadawi and The Other Europeans, on stages between North America, Europe an Japan.

A dedicated and sought-after teacher of Yiddish music, Christian Dawid has conducted and conceptualised numerous workshops at international festivals and workshop academies, in Weimar, London, Paris, Montreal, Fürth, New York, Safed, Cracow, St Petersburg, Buenos Aires and many other places. He regularly works as an advisor to international Jewish culture festivals. He also works as an arranger and composer. He lives in Berlin.
Trio Yas: https://youtu.be/qvfUrYWJ7Mo
Konsonans Retro: https://youtu.be/LLUo1MqtR_g
Ben Caplan: https://youtu.be/ccgcvCOF-zM
Daniel Kahn & The Painted Bird: https://youtu.be/dTYQpayVdyQ
https://youtu.be/QFu0o8NB5Io

"World class clarinettist with a magically lyrical phrasing" Jüdische Allgemeine
"An incredibly expressive clarinettist", klezmershack.com

www.christiandawid.com

Photo: Roman Ekimov